Rune Hjorth Bakkendorff is an independent master watchmaker, graduated from the Danish School of Watch- and Clockmaking with the highest attainable grades. He also received the Silver Medal of the Copenhagen Association of Craftsmen, the highest award for newly trained journeymen.
After graduating Rune had stints in Switzerland, working with manufacturing haute horlogerie and artisanal watchmaking, combining traditional techniques with the newest manufacturing technology.
Rune creates wristwatches and clocks, novel designs and mechanisms, handmade in his shop and to the highest standards. Small series and unique pieces are conceptualized, constructed and crafted in his Charlottenlund workshop.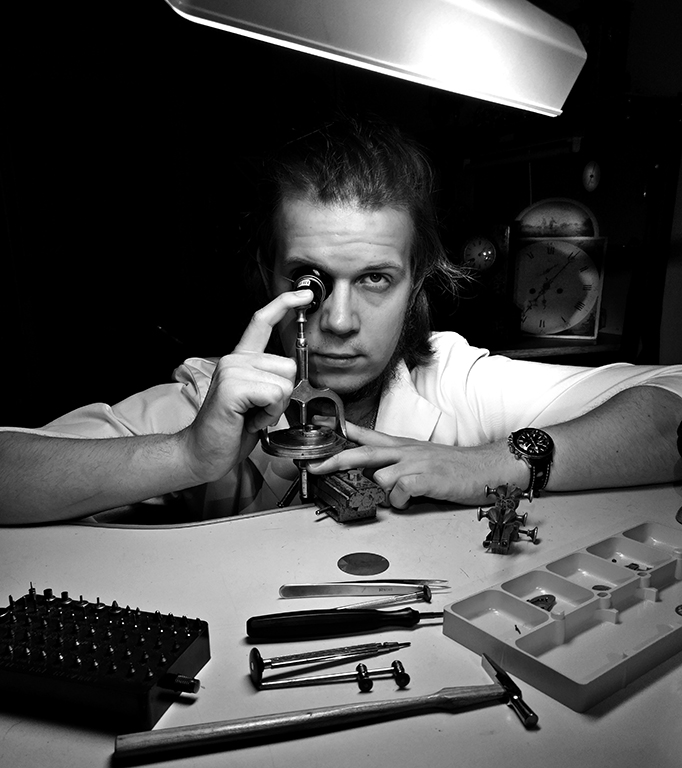 He has extensive experience in restoration and conservation of historical watches and clocks of many private and institutional collections.
In his mind, watchmaking is the perfect profession. It is a balance of craftsmanship, aesthetics, history, and technology.
Rune is on the board of directors of The Watch- and clockmakers Guild of Copenhagen, and he is also Vice-elderman of Danish Guild of Antique-Conservation.